Downhill
A one-run event that includes a variety of challenging turns, jumps and gliding phases in which the skiers reach the highest speeds of all the alpine disciplines.

Super-G
A one-run event of high-speed turns, which may also include jumps and gliding phases.

Giant Slalom
Times from two runs on different courses are added together in a discipline requiring precise turns.

Slalom
Slalom is contested on two different courses where the combined time counts and demands extreme agility and balance.

Combined
The Alpine Combined tests the all-round ability of the competitor where the combined times from a Downhill and Slalom race are added together.

WINTER
SPORTS
CENTER



Cross Country Skiing
click here





Alpine Skiing
click here


Free Style Skiing
click here

Telemark Skiing
click here

Ice Climbing
click here





Nordic Skiing
click here

Ski Jumping
click here




Snowshoeing
click here

Biathlon.com
click here

TelemarkSkiing.com
Click here
Explore back country telemarking, alpine touring and snowboarding!
Search telemark skiing specialty shops featuring products, reviews, articles, gifts, accessories, obscure telemark products and advice.
Click here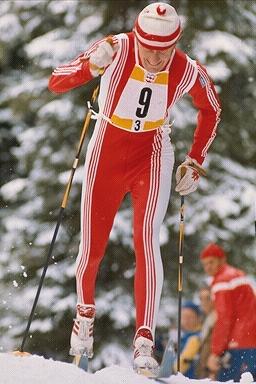 CrossCountrySkiing.Com
click here
Search our web guide to cross country skiing featuring x-country skiing vacations and listings of cross country ski lodges in North America
Compare the lowest prices on ski equipment from over 40,000 stores
across the Web.
click here

Links:
On line publications: